Sample Information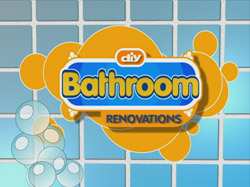 DIY Network / Edelman Productions - Bathroom Renovations 2
The DIY Network and Edelman Productions, producer of the popular Bathroom Renovations and Kitchen Renovations cable TV shows, were looking for a way to show viewers the designer's vision for transforming old, tired kitchens and bathrooms. They first tried using real views of the old, and then the new room, but it was hard to keep the viewer oriented as the camera panned and tilted, and then cut to different scenes.
Then, they asked us to use our 3D animation technique to help the viewer better understand the designer's vision. What a difference!
These colorful, informative segments began as a flat, 2-dimensional, black and white floor plan and 2-dimensional color images of the products. Each of the samples contain a "scratch track" voice-over by the show's host, which was later replaced.
We are presenting several examples from each show. Look carefully and you'll note that we employed different shadowing, texturing and colorizing techniques, depending on the the needs of that particular installment.